Pick Up 08.00-08.30am, Price $115/Car/2 Persons
Visit:
• Batubulan Village : Traditional Barong Dance
• Art Village : Silver, Wood Carving, Painting
• Kengetan Village : Organic Fruit Plantation
• Goa Gajah : Elephant Cave Temple
• Gunung Kawi : Rocky Temple
• Tirta Empul : Holy Spring Water Temple
• Kintamani : Volcano & lake View (Lunch)
• Tegallalang : Rice Terrace
• Ubud : Romantic Candle Light Dinner
Note: The price is including all entrances ticket, 1x Lunch, 1x Romantic Candle Light Dinner, Mineral Water, Soft Drink (Coke or Spite or Fanta) Car, Petrol, Parking, English Speaking Driver, Balinese dress to the temple (Sarong), Chilled Towel, & 21% Government tax.
1. Traditional Barong : Barong is probably the most well known dance. It is also another story telling dance, narrating the fight between good and evil. This dance is the classic example of Balinese way of acting out mythology, resulting in myth and history being blended into one reality.
The story goes that Rangda, the mother of Erlangga, the King of Bali in the tenth century, was condemned by Erlangga's father because she practiced black magic. After she became a widow, she summoned all the evil spirits in the jungle, the leaks and the demons, to come after Erlangga. A fight occurred, but she and her black magic troops were too strong that Erlangga had to ask for the help of Barong. Barong came with Erlangga's soldiers, and fight ensued. Rangda casted a spell that made Erlangga soldiers all wanted to kill them, pointing their poisoned keris into their own stomachs and chests. Barong casted a spell that turned their body resistant to the sharp keris. At the end, Barong won, and Rangda ran away.
Somebody can die or get seriously injured in a Barong dance. It is said that if Rangda's spell is too strong, a weak soldier may not be able to resist it, even with the help of Barong. He may end up hurting himself with his own keris.
The masks of Barong and Rangda are considered sacred items, and before they are brought out, a priest must be present to offer blessings by sprinkling them with holy water taken from Mount Agung, and offerings must be presented.

2. Arts Village : Second Stop is Arts Village, along the way the gold and silver smith is Celuk Village, there are a lot of Huge silver shop inthis village. Batuan Village to see the painter make own creation and imagine. Textile factory at Tohpati Village. The wood carving Village name is Mas and Kemenuh Village, both village produce very good quality of woodcarving made from very hard wood such as teak, mahogany, ebony and hibiscus wood, those of wood import from another island Java, Sumatra and Sulawesi.

3. Organic Fruit Plantation (Luwak Coffee) when traveling to Indonesia, and Bali in specific it's a must to try Kopi Luwak coffee at least once. You can get Starbucks when back at home but if you want a cup of Kopi Luwak coffee outside of Indonesia it will cost you.
Kopi is the Indonesian word for coffee and Luwak is the local name of the Asian palm civet in Sumatra. Kopi Luwak is the coffee that has been digested by an Asian palm civet. The civet eats the coffee cherries, the cherries go through the digestive track and fermentation occurs, and then they pass through the intestines and eventually pooped out. The coffee cherries are then picked out from poop aka poop coffee.
Kopi luwak came about in the 18th century in the Bali Island in Indonesia. Now-a-days it's mainly produced on the Indonesian islands of Sumatra, Java, Bali, and Sulawesi.
The best way to purchase authentic luwak coffee is to go to Bali Indonesia and make a vacation out of it. It's one of the tastiest things to do in Bali. Learn about the coffee's process, sample a cup of poop coffee, and then buy some fresh Indonesian coffee to bring home with you.
Luwak Coffee is one of the most expensive coffees in the world with a retail price as high as $700 per kilo/$300+ per pound. However, farmed luwak coffee (low grade) can be purchased in Indonesia at large grocery stores for about $100 kilo. Genuine kopi luwak from actual wild civets is insanely hard to purchase and hard to prove if the poop coffee is real or fake. There are kopi luwak roasters in Bali that sell the coffee buy the cup so you can sample it, and decide for yourself if you like animal poop coffee. A cup sells for over $5 a cup in Bali.
The thought of an animal eating the coffee cherry, pooping it out, cleaning the coffee bean and roasting it may sound a bit strange. What on earth could it taste like? The result of all this work is a very flavorful almost fruity coffee that has very little bitterness. During the digestive process the beans altered and it yields a much less bitter cup.

4. Elephant Cave Temple: Welcome to Bali Goa Gajah Temple or Elephant Cave Temple which is located in west side of countryside, Blah Batuh Sub district and Gianyar Regency. It is about 27 km from Denpasar town. This cave is built at crevasse edge from the federation of 2 rills that is called Pangkung River, where the irrigation is mixed with Petanu River flow. The federation area of two rivers is called Campuhan/Mixture. It owns the magical energy on the basis of Rwabineda Concept/two different matters on this basic concept hence Goa Gajah Temple or Elephant Cave Temple is intentionally built among two rivers.
The word of Goa Gajah is anticipated coming from the word of Lwa Gajah, the name of Buddhist Temple or hermitage for Buddhist monk. The Goa Gajah's name is written on Negara Kertagama papyrus which is compiled by Mpu Prapanca on 1365 M. Lwa or Lwah/Loh mean the river and it reflect to the meaning that the hermitage is located at Gajah River or in Air Gajah. In the year inscription 944 Saka, it is mentioned with the name of 'ser ring Air Gajah' that is meaning the Subak leader in Air Gajah. The word has mentioned that the hermitage of Lwa Gajah is located in Subak Air Gajah. Among the local residents, the Goa Gajah Temple is better known as Cave Temple, located in the west of Bedahulu Village, Blahbatuh Subdistrict, Gianyar Regency. It is about 27 km east of Denpasar. A visit to this temple can be done easily because it is only a few feet below the highway toward the village of Tampaksiring Indeed this temple was built at the Valley of Petanu River having beautiful natural panorama.
5. Gunung Kawi Temple: Bali's own Valley of the Kings is Gunung Kawi Temple in Tampaksiring. This collection of candi is beautifully situated in a river valley surrounded by rice fields and jungle. This has been one of our favorite day trips for years.
Gunung Kawi Temple is a collection of ten candi, created to evoke the appearance of temple fronts and designed to provide residence for the souls of ancient kings. The candi are hewn into the valley walls on both sides of the Pekerisan River. The Gunung Kawi Temple does have an interesting history. Inscriptions over each Candi approximate the date of construction to be in the 11th C. It is believed that each temple served as a memorial to a deified royalty principally because they are shaped like the burial towers, or Candi's, found throughout Central Java. But in Java they are free standing whilst those found at Gunung Kawi are actually hewn reliefs in solid rock. While the exact origin of the candi is unknown, there is evidence to suggest that the first set of five were built to honor King Anak Wungsu, whose rule over central and east Bali extended from AD 1050 to about AD 1080. It is possible that one was built for him and the other four for his wives, who would have ceremonially committed suicide after his death
Gunung Kawi Temple is two rows of ancient royal tombs on the banks of the Pakerisan River deep in a ravine overlooked by terraced rice-fields. The holy Pakersian River flows through the centre of Gunung Kawi cutting the site into two separate sections with a bridge to connect one side to the other. It is believed the holy waters of the Pakerisan sanctify Gunung Kawi, and the beauty of the place evokes a relaxing and peaceful atmosphere.
On the east side of the river are situated five candi which constitute the main group in this complex. Across the bridge are four candi on the west side. The remaining candi at the southern end is often referred to as the 'tenth tomb'. At the bottom of the stairway and to your right-hand side through a small field (about one kilometer) is where the tenth tomb is located. The legend to this amazing place is intriguing. It is believed that the mythical giant Kebo Iwo carved out all of the ancient tombs in one night with his fingernails. There are 3 temples which so called the name as Gunung Kawi in Bali those are Gunung Kawi in Sebatu countryside, Gunung Kawi Temple in Keliki countryside and Gunung Kawi Temple in Babitra countryside. Behind the small temple you can find a couple of meditation caves, which indicates that this is a pre-Hindu place where monks and pilgrims came together to meditate.
6. Tirta Empul Temple: Bali Tirta Empul Temple is built around the sacred spring at Tampak Siring. For more than a thousand years, Balinese worshipers have been drawn to Tirta Empul Temple whose sacred spring is said to have been created by Indra and to have curative properties. The tradition continues almost unchanged at the temple today.Over 1000 years old, the temple and its two bathing places have been used by the people for good health and prosperity because of the spring water's curative powers.
History of Tirta Empul Temple:
Tirta Empul Temple It is a myth described on a manuscript called Usana Bali says that a Balinese arrogant king named Maya Denawa did not believe in god, and objected the people to worship god. Later the punishment for the king came. The warior of Bhatara Indra arrived to attack Maya Denawa and put him away from the throne. But Maya Denawa used chemical weapons causing all the warriors of Bhatara Indra were poisoned to dead. Seeing this Bhatara Indra than planted his pole to the earth, and sprang water. This water was used to spray the dead warriors, and they alive back. So this water source until now is believed to be the source of life and prosperity. It is especially correct if we associate this water spring with the irrigation system around the area, as it gives hundreds of hectares of rice field from Tampaksiring until Pejeng areas.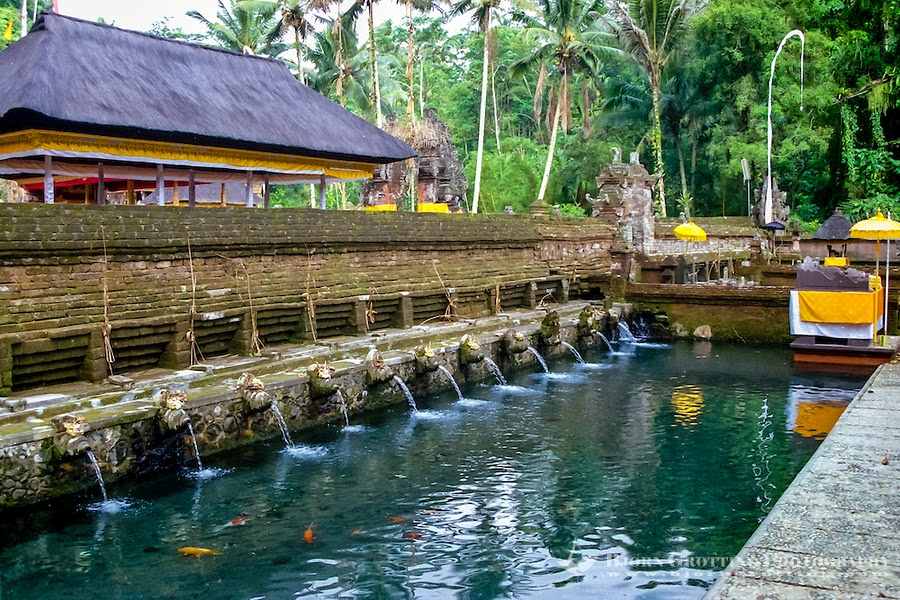 The inscription mentions the construction of Tirta Empul Temple in 960 AD, when the king Chandrabhaya Singha Warmadewa ordered this which is already 1042 years ago. It seems that this place was not interesting for ancient king but on 1954 the first Indonesian president Soekarno had built his presidential villas just at the west side of the temple. Originally a residence for Dutch officials, it was later used by former President Soekarno during his frequent trips to Bali. This villa has brought also the name of Tampaksiring become known world widely.
7. Kintamani Volcano & Lake View : Bali Kintamani Village is 1500 meters high, the village of Kintamani is a cool, damp climate suited to growing oranges and passion fruit and on market day, which falls every third day, the main street becomes a bustling chaos of vendors, some of whom have traveled from far away, carrying their wares on horseback.
Kintamani is the object of mountain tourism is very unique and stunning, with cool air condition in the daytime and cold at night. Tourism Object is located in the area is located in the village of Batur Batur, Kintamani District Level II Regional District Bangli. As for the route object, object linking tourism with the Tourism Regions Tourism Batur and Besakih Tampaksiring.
To reach these locations can be taken through the journey overland from Denpasar for 2 hours, exactly to the place called Penelokan. In accordance with its name in Balinese, Penelokan means most strategic place to see the sights of nature in this tourist location. Located in the region Penelokan Kedisan village, one village in Kintamani District.
We can watch stunning natural scenery of Penelokan, a combination of Mount Batur and the expanse of black rock with Lake Batur and on a blue caldera. According to the tourists often called the world's most beautiful caldera. Because the number of tourists grew, Penelokan already has an adequate infrastructure facilities complete with lodging and restaurants. In This area you will enjoy your Lunch with Indonesian food (Buffet).
8. Tegallalang Rice Terrace: Bali Tegallalang Rice Terrace located on the north side of Ubud around 20 minutes drive. This area is famous tourist attraction for beautiful rice terraces, many tourists who travel to and from Kintamani stopped at this place to witness the beauty of the verdant terraced rice field scenery or having lunch at the restaurant while enjoying the beautiful scenery of terraced rice fields. Tegallalang Rice Terrace is one of the tourist icons in Ubud Bali.
The rice terrace is designed very beautiful with exquisite hollowing rice field and precisely located on the hill bank. In this place, you will see the Balinese farmer do their rice field in oblique area complete with its system irrigation. You will enjoy the beautiful panorama of valley with rice terrace and coconut trees ornament it.
The northern part of Ubud, there is one area called Tegallalang, where many great home industries. Hundreds of miscellaneous crafts of cat and mouse, dolphin, giraffe, etc. that are made of wood or iron were manufactured here. Other handicrafts produced are bags of different models from a variety of materials, stone carvings, cheap wooden carvings, wooden masks, all sorts of glass handicrafts is formed into a vase, unique bottles or plates. Everything is here. Shop and showroom is lined up along the 10 km, if we're shopping here, of course depends on how thick is your pocket. It's endless.
9. Romantic Candle Light Dinner: Special romantic moment during your time in Bali, our Team will organize for both of you, served in your own private gazebo on the grounds of our Restaurant Warung PADI, will make you feel like a true prince and princess!
We prepare all flowers and candles around the pool. We also provide Balinese rindik music, Pop, Reggae, to make this a night to remember.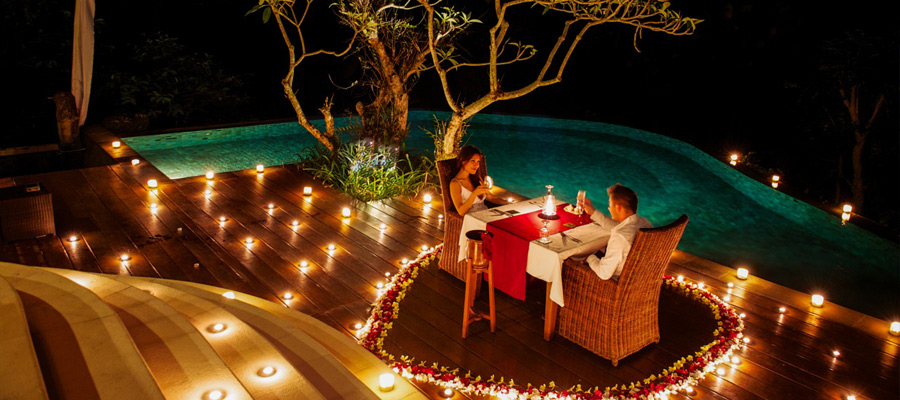 .