TANJUNG BENUA & ULUWATU TOUR
Pick Up 08.00 – 08.30am, Price $200/Car/2 Persons
Visit:
• Tanjung Benoa : Water Sport (Parasailing, Banana Boat, Turtle Island)
• Padang – Padang Beach : White Sand Beach
• Uluwatu : Temple on the Cliff, Sunset & Kecak Fire Dance
• Jimbaran : Romantic Candle Light Dinner (Seafood)
Note: The price is including all entrances ticket & Water Sport, Traditional Kecak Dance (Ticket) 1x Romantic Candle Light Dinner (Seafood), Mineral Water, Soft Drink (Coke or Spite or Fanta) Car, Petrol, Parking, English Speaking Driver, Balinese dress to the temple (Sarong), Chilled Towel, & 21% Government tax.
1. TANJUNG BENOA Tanjung Benoa is a fisherman village formed from the delta of white sand and flanked by the sea in both side. Before becoming the tourist destination, the life style of local residence at Tanjung Benoa are very simple where most of them are become fisherman who done their activities on the sea daily. Since 1980, this area began develop and change where the international class hotels have been built including restaurants so that gradually this place become famous among the tourists. The government of Bali Province has established Tanjung Benoa Beach as Marine Sport Center because it is blessed by the beautiful white sandy beach with calm seawater. The palm and tropical trees are able to create the shady atmosphere including the calm seawater those are ideally for swimming, relaxation and walking on the beach. Many tourist in particular family travelers come and stay at this area to fulfill their holidays in Bali.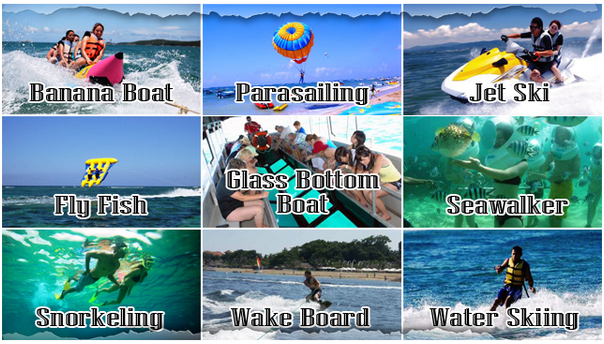 2. PADANG – PADANG BEACH Padang Padang Beach, locally referred to as Pantai Labuan Sait, is one of Bali's most famous surf spots, located on the north-western coast of the island's Bukit Peninsula, and just a kilometer southwest of the Uluwatu. This beach features an exotic setting; a simply stunning one hundred meter-long stretch of sand that is accessible down a flight of stairs through a unique hollow rock entrance. The surf has a steady set of barrels during good weather, attracting wave riders from around the world.
Part of the group of world-class surf spots that line the coast of the southern peninsula, Padang Padang Beach lies several kilometers in between Bingin and Uluwatu, among which surfers usually hop to interchangeably for a different set of challenges and another thrill for the day. This beach is also a regular spot for international surfing events, the Rip Curl Cup Padang Padang being the most frequent.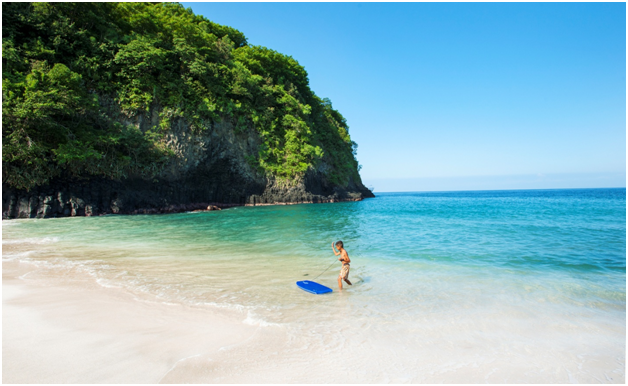 Heading up along Jalan Raya Uluwatu from Jimbaran and around 30 minutes' drive past the Garuda Wisnu Kencana Cultural Park, a junction with signs that clearly bear 'Jalan Labuan Sait' leads you along a hilly but smooth 3.5km asphalt route. This region has developed with its rise to fame over the past decade, and is now lined with shops, surf lodges and neat western-style cafes targeted at the surfing crowd.
Beach access is down the slope across the road from a large parking area. Prior to this is a bridge that connects the two sides of the limestone cliff, offering a glimpse down to the beach from up high. Halfway down the flight of stairs is a temple that overlooks the surf, and sharing the coastal forest features with Uluwatu, you will occasionally witness playful grey long-tailed macaques playing around the stairs on the Balinese 'Gapura' gate, and high up in the acacia trees. A fun fact: Padang Padang Beach was featured as a romantic setting in the 2010 big-screen adaptation of 'Eat, Pray, and Love'
Once you reach the bottom of the stairs, you are greeted by a gorgeous sight: a fringed beach with fine, white sand, blue waters and a distant horizon. There is board rentals here provided by the locals if you don't have your own but would like to try (warning: the waves here break over shallow coral and are not suitable for beginners). Although the big waves beyond the reef breaks are limited to advanced surfers, the shore is great for family fun and leisure, and there are local warungs on Padang Padang Beach serving light meals and refreshments. Sand castles, splashing, sunbathing, lying down with a good read under a parasol, or simply sitting back to enjoy the exotic views… all are welcome.
3. ULUWATU TEMPLE Uluwatu Temple, or Pura Luhur Uluwatu, one of six key temples believed to be Bali's spiritual pillars, is renowned for its magnificent location, perched on top of a steep cliff approximately 70 metres above sea level. This temple also shares the splendid sunset backdrops as that of Tanah Lot Temple, another important sea temple located in the island's western shores.
Pura Luhur Uluwatu is definitely one of the top places on the island to go to for sunset delights, with direct views overlooking the beautiful Indian Ocean and daily Kecak dance performances. Balinese architecture, traditionally-designed gateways, and ancient sculptures add to Uluwatu Temple's appeal.
Without a doubt, what makes Uluwatu Temple spectacular is its cliff-top setting at the edge of a plateau 250 feet above the waves of the Indian Ocean. 'Ulu' means the 'top' or the 'tip' and 'watu' means a 'stone' or a 'rock' in Balinese. Several archaeological remains found here prove the temple to be of megalithic origin, dating back to around the 10th century. There are two entrances to Uluwatu Temple, from the south and the north.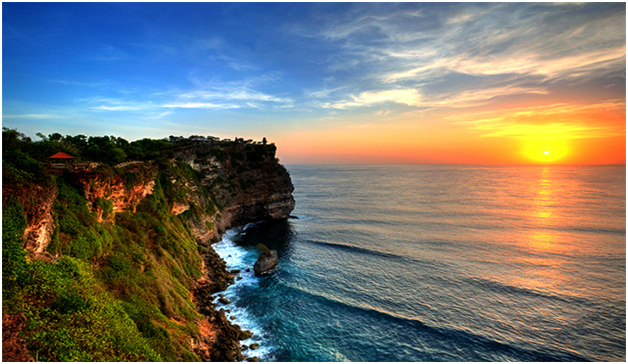 A small forest lies at the front and hundreds of monkeys dwell here. They are believed to guard the temple from bad influences. The serpentine pathway to the temple is fortified by concrete walls on the cliff side. It takes about an hour to get from one end to another as there are several fenced points along the way to stop. The views from the bottom of the water surging up against rocks and the ocean horizon are remarkable.
The Balinese Hindus believe that the three divine powers of Brahma, Vishnu, and Siva become one here. That belief results in making Uluwatu Temple a place of worship of Siva Rudra, the Balinese Hindu deity of all elements and aspects of life in the universe. Pura Uluwatu is also dedicated to protect Bali from evil sea spirits.
History
Inscriptions mention that Uluwatu Temple was instigated by Mpu Kunturan, a Majapahit monk who also participated in establishing several other important temples in Bali such as Pura Sakenan in Denpasar, about 1,000 years ago. A holy priest from eastern Java, Dhang Hyang Dwijendra, then chose Uluwatu Temple to be his spiritual journey's final worshiping place. Balinese Hindu devotees believe that he reached the highest spiritual point of oneness with deities by a strike of lightning and completely disappeared.
Legend, however, says that Dhang Hyang Dwijendra (also frequently referred to by name as Danghyang Nirartha) was the architect of Uluwatu Temple and several other temples in Bali, Lombok, as well as Sumbawa. Until 1983, Pura Uluwatu was hardly accessible and a lightning strike in 1999 set some parts of the temple on fire. The temple has had some restorations since it was first built.
Highlights and Features
behind the main shrine in one of the courtyards of Uluwatu Temple lies a Brahmin statue facing the Indian Ocean, considered as a representation of Dhang Hyang Dwijendra. The two entrances to the temple area are split gates with leaves and flowers carvings. In front of each of them are a couple of sculptures shaped like a human body with an elephant head.
A heritage of the 10th century is the one-piece winged stone gate to the inside courtyard of Pura Uluwatu. Winged gates are not commonly found on the island. An addition to Pura Uluwatu in the 16th century is Pura Dalem Jurit. There are three statues in it, one of them is of Brahma.
There are two stone troughs in the temple area. If both of them are joined, they create a sarchopagus (Megalithic coffin). Uluwatu Beach, below the cliff, is one of Bali's best internationally-known surfing spots.
Good to Know about Uluwatu Temple
Every six months according to the Balinese 210-day Pawukon cycle, big temple anniversary celebrations are held at the temple. The temple's keeper, the royal family of Jro Kuta from Denpasar, is patrons for the event.
Precautionary signs warn visitors of the monkeys grabbing attractive items such as sunglasses and cameras. However, they can be calmer when approached with peanuts or bananas, lending an opportunity to retake stolen possessions.
There hasn't been any significant erosion on the shoreline underneath the temple's towering cliff. Believers regard it as a manifestation of the divine power that protects Pura Uluwatu. Public facilities are available, but not in the temple area. Unlike some other tourist destinations in Bali, Uluwatu Temple area has limited amounts of hassling vendors.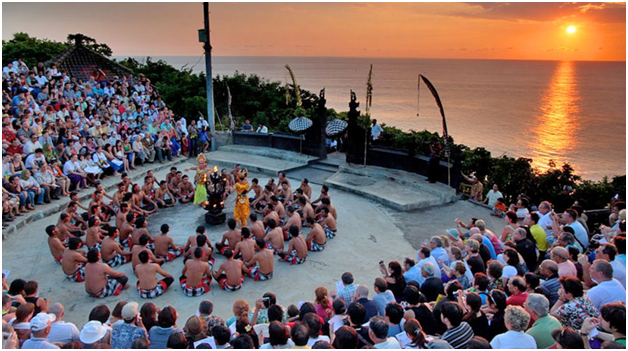 Visitors must wear a sarong and a sash, as well as appropriate clothes common for temple visits. They can be hired here. The best time to visit is just before sunset. A Kecak dance is performed everyday at the adjacent cliff-top stage at 18:00 to 19:00. Visitors are charged a nominal fee. What makes it the most favourite venue to watch a Kecak dance is the sunset background of the performance.
There's no public transportation to get here and going back in to town will be difficult without any prearranged ride or taxi. A guide is not necessary, though helpful. The service offered is hassle-free at very minimum prices.
4. JIMBARAN SEAFOOD Jimbaran seafood cafes must already be on your must-visit places for your Bali holiday, especially if you're a seafood lover. Not only is Jimbaran Bay one of Bali's best places for memorable sunsets, but it is also the most popular coast to enjoy grilled seafood. Seventeen seafood cafes line the white-sand beach locally known as 'Pantai Muaya'.
Mostly open afternoon until late, each of the venues within the row of Jimbaran seafood cafes in the bay offer fresh-grilled seafood served at candlelit tables on the sand. As the sun goes down, the horizon features faint lights from the Ngurah Rai airport and traditional fishing boat lanterns at sea.
You'll notice similar setups as you approach the Jimbaran seafood cafes from the beach; wooden tables with parasols down to the tide's edge and some adorned with attractive palm leaf decorations. Drop-off from the main entrance and you'll see grills and live seafood displays under signboards of each cafe that show different stock and 'catches of the day'.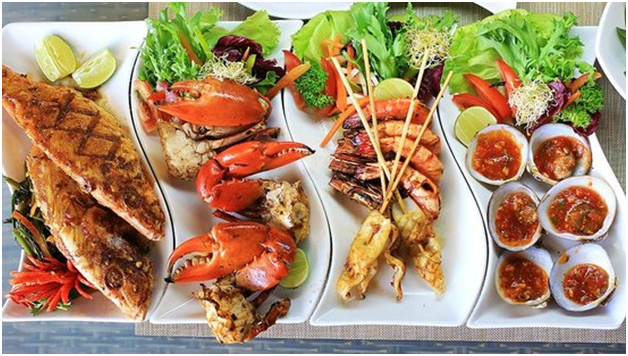 From several dinners we had at different cafes, we noticed slight variations in the homemade sambal (traditional chilli sauce) in form and spiciness.while others, Bela for instance, boast gimmicks such as torches and attractive table setups. Mild competition among these venues means good service; staff and waiters are attentive and speak simple English.,